Post by Dispatch on Apr 9, 2015 16:29:29 GMT -5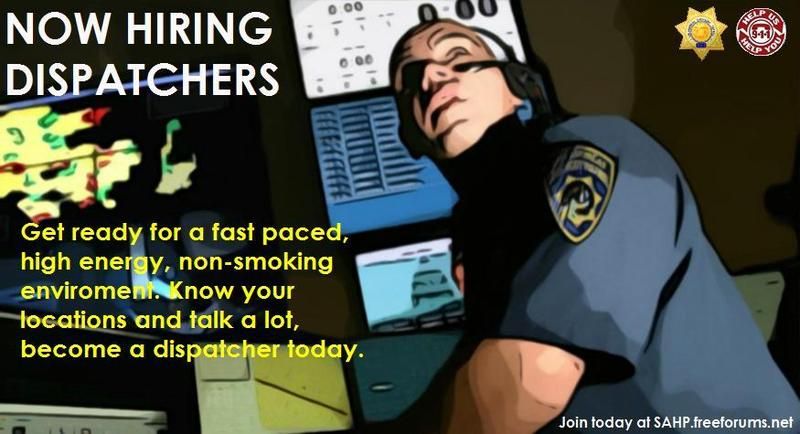 THE AVATAR BANK
(Wear your rank)
Officers are expected to use one of our avatars while on our forum. From the main forum screen, click on profile. From the next screen, edit your profile and you will have the chance to alter your avatar. Choose from one of our crew avatars, and only choose one that represents you. If you've never played the plainclothes detective, don't pick that avatar. Never had to don your riot gear, don't wear the riot gear avatar. Most importantly, do not choose an avatar that indicates rank or experience other than your own. Avatars that are not from our bank will be altered by the moderator.
THE HASH MARK
(Experience)
Officers may earn up to six hash marks, possibly more. Each mark is indicated by a blue stripe on your left sleeve. These stripes are not apparent in game, but can be displayed by the proper uniform in the forum avatar bank. Two of the Hash Marks can be earned rather quickly, as they are not governed by a time frame. The first slash is earned by completing all six Academy Tours. If you've played five of the six training missions then you do not earn a hash mark. The second can be earned by moving beyond Rookie status on the forums. This is achieved by regular participation. Each additional hash mark is awarded by serving three months demerit free. The number of Hash Marks you have can be denoted as a number at the end of your rank. So if you are an Officer with two stripes you would be an Officer 2.
CHEVRONS
(Promotions)
Promotions are awarded to loyal Officers that have achieved a variety of citations and have natural leadership qualities. No one climbs the ladder quickly in the SAHP, but there is a ladder to climb and experience is rewarded. In order to be a lieutenant or higher, you must have already earned six hash marks. Here is a quick overview of what rank each chevron represents.
No chevron: Officer
Single chevron: Lance Corporal
Double chevrons: Corporal
Three chevrons: Sergeant
Three Chevrons with a single rocker: Staff Sergeant
Three Chevrons and two rockers: Sergeant First Class
Three Chevrons and three rockers: Master Sergeant
No chevrons, single gold collar bar: Lieutenant
No chevrons, double gold collar bars: Captain
That's as high as our ranking system goes. There are no Division Chiefs and there is no Commissioner. Now, this section begs the question of how one earns demerits or citations. The next section provides the answer.
EARNING CITATIONS
Citations can be issued by active Supervisors, Dispatch, or a fellow Officer if his claim is supported. Citations should be recorded by the host and posted on this board. Citations are earned in several fashions.
Referral: Promote our crew. Refer a friend that becomes an active Officer, you get a citation.
Loyalty: Follow orders, and generally perform as a productive Officer. Keep it up and you'll be rewarded.
Management: If you spawn at a crime scene and set it up well, you get a citation.
Valor: If another Officer believes that your actions saved their life, inform the Super or Dispatcher. Citation time.
Stepping Up: If you assume dispatch duties mid game due to host lag out, you get a citation.
Driving Performance: If your initial squad car remains in mint condition at the end of a tour, you earn a citation. (Unless you didn't do anything.)
Trooper: If you show patience in a game that otherwise flops, you may earn a citation.
EARNING DEMERITS
Demerits are given to Officers who obstruct or impede the normal flow of a patrol tour. Demerits can be issued by Dispatch or a supervisor who has earned their third promotion (Sergeant or higher.). They are issued due for various infractions, including the following.
Poor Radio Etiquette: Fill the airwaves with nonsense, you might get a demerit. Chat it up in our down time.
Damaging police equipment: Like wrecking your squad car into other Officers' vehicles and more, you'll get some demerits.
Assaulting a fellow Officer: If you meant to do it, you're meant to get a demerit.
Damage Department property: Damage a crime scene or mistreat it, you'll get a demerit.
Off the grid: Ignore the dispatcher, shrug off a supervisor, or disregard orders, get a demerit.
Fail a review: Out of uniform on an active patrol, you deserve a demerit.
Inviting non crew members to a patrol party without consent. Demerit.
Siphoning: Poach our members to start a rival department during patrol, get demerits.
WHEN AND HOW TO PROMOTE
The basic promotion scale goes as follows: You are eligible for promotion for each seven positive citations earned. Demerits work against this score so each demerit negates a positive citation. In order to be promoted, an Officer must express a desire to climb the ranking ladder, and he or she must have enough citations to be considered. Seven citations make you a consideration for Lance Corporal, while fourteen makes you eligible for Corporal.
Sergeants must have at least two hash marks, and twenty one citations. The scale continues to climb based on the following requirements.
Officer (0 Citations / 0 Hash Marks)
Lance Corporal (7 Citations / 0 Hash Marks)
Corporal (14 Citations / 1 Hash Mark)
Sergeant (21 Citations / 2 Hash Marks)
Staff Sergeant (28 Citations / 3 Hash Marks)
Sergeant First Class (35 Citations / 4 Hash Marks)
Master Sergeant (42 Citations / 5 Hash Marks)
Lieutennant (49 Citations / 6 Hash Marks)
Captain (60 Citation / 6 Hash Marks)
Since citation scores can drop due to infractions, demotions are possible.